Inspection mirrors
Their ability to facilitate visual inspection of hard-to-reach places including the dark ones can be used:
by technical structures for examination of a state of various objects;
by customs services for inspection and supervision of passenger traffic and freight transport;
by rescue services when eliminating the effects of emergency situations (inspection of blockages and hard-to-reach places);
for inspection of municipal engineering objects (wells, elevator equipment, collecting channels, etc.);
when performing examination and maintenance works in transportation facilities;
by rescue and security services for performing special operations.
ZDT-2.2/3 inspection mirror on the telescopic arm
It includes the telescopic arm with replaceable mirrors of various shapes, an illuminating lamp on a special bracket, a quick-detachable monocular, and a packing bag.
Features:
Low-weight LED illuminating lamp supplied by three rechargeable batteries (AAA type). The lamp can be readily extracted from a holder and used independently;
Set of mirrors of various sizes and shapes (at the customer's option);
Two types of used optical materials: glass and reflecting plastic;
Simple and reliable mirror holding/inclination assembly;
Working length is up to 2.5 m;
Monocular for detailed examination of distant objects with an 8X magnification;
Specifications:
Mirror tilt

0 Е 115∞

Mirror dimensions

d70 mm, d145 mm, d130 x 70 mm

Overall dimensions (in the bag)

1200mm x 180mm x 40 mm

Monocular working distance

from 1.3 m

Monocular magnification

8X

Continuous running time with one battery set

not less than 180 min

Ready-assembled arm length

2.3 m
Base set:
Telescopic arm;
Mirrors: rectangular mirror and two round ones;
Illuminating lamp;
8X monocular;
Two sets of rechargeable batteries;
Charger;
Packing bag.
ZDT-1.6S tactical inspection mirror
A compact solution with a minimum set of components.
The set includes:
Telescopic arm with a round fixed mirror of 130 mm in diameter (as an option - with replaceable mirrors);
Two sets of rechargeable batteries and the charger;
Packing bag.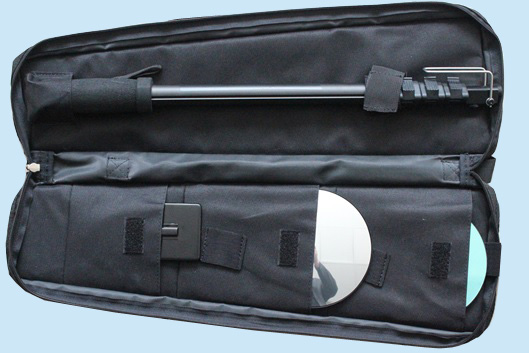 Features:
A compact structure with a plastic safety mirror.
Ready-to-work weight is 350 g only.
Working length is up to 1.6 m.
Being integrated in housing of the anodized aluminum telescopic arm, an intense directed LED-based illuminator ensures effective illumination of subjects which are up to 2 m distant from the mirror.
Simple adjustment of the mirror tilt up to 115∞.


Prompt and simple transfer of the mirror from a transport state into the working one.

| | |
| --- | --- |
| | |
| Transport state of the mirror | Working state of the mirror |

Light-emitting diode is supplied by two standard rechargeable batteries of an HR03 type (AA).
See also:
TDK-1 television inspection device (pole camera)
Rigid endoscopes :: Sets of endoscopes :: Photo and video recording